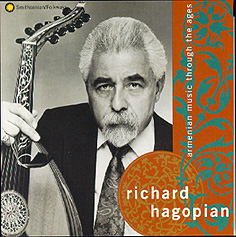 I especially enjoy the Ud played by Richard Hagopian. To hear this wonderful Armenian music visit Folkways:Richard Hagopian. Unfortunately, I have not seen him perform a Kef live. He only comes to my area once or twice a year. The last two times I had car problems and he was playing an hour away. Maybe next time.
Richard Hagopian was born of Armenian parents. At the age of ten, he began studying the `ud with Kanuni Garbis Bakirgian. Today, Mr. Hagopian is an `ud virtuoso. He performs at many folk festivals and Armenian events. He is the recipient of numerous grants and awards.
History and description of the `ud

Sweeter than wine
From the grapes of Mt. Ararat's valleys,
Notes from Richard Hagopian's `ud
Ripened with his voice,
More intricate than the vines,
Harvested in culture and traditions,
Continue to thrive at Armenian celebrations
Generation after generation.
Richard Hagopian/Kef Time Band: Buy it at Excite Music
The Best of Armenian Folk Music: Buy it at Excite Music
Smithsonian Folkways Artist Performance Schedule
Back to the Armenian Links Page
My Poem: Misery on the Road to Aleppo
My Short Story: Birds of a Feather